Our Story
Established in 1978, Wah & Hua Pte Ltd in Singapore aims to lead the waste management industry in Asia with the latest technologies of products and services.
Wah & Hua Pte Ltd – a multi-material recycling and waste Management Company that provides service for the collection of recyclables materials from small business to large corporations. Founded by Steven Tan, recycling at that time was a new concept with relatively little support from business or government. However, Steven as they would come to be known throughout the industry, believed recycling to be one of the emerging opportunities of the 90's.
Armed with an old garbage truck and determination, Steven began collection previously discarded materials from a variety of business sources. Learning on the fly, Wah & Hua Pte Ltd has grown from a one-truck team into a sustainable recycling business.
We have the capability to provide a full range of waste management services to complement our services and recycling. Wah & Hua Pte Ltd operates facilities with large industrial balers and other equipment.
Wah & Hua Pte Ltd was established
Shifted to a bigger production and office space at 11 Kranji Crescent
HHJ Pte Ltd was incorporated
Opack (Singapore) Pte Ltd Ltd was incorporated
Eco Creation Manufacturing Pte Ltd was incorporated
Hua Ying (Singapore) Pte Ltd was incorporated
Partnered with Alba Group for the collection of household waste in the Jurong sector
The Jurong urban region with a population of more than 500,000 is to be served by a digitalised system meeting high environmental standards and providing capacity to collect around 17,000 tonnes of waste a year.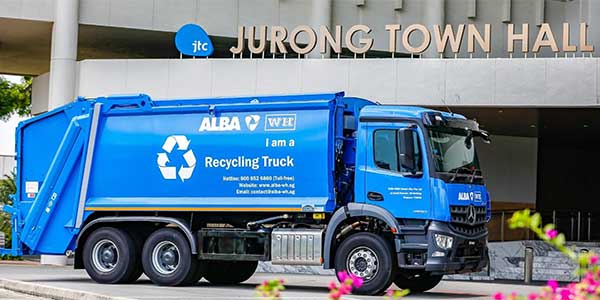 Launch of Waste to Energy Plant
Our Commitment
Due to our family-oriented entrepreneurial culture, building relationship is of utmost importance to us. We are committed to provide high-quality service to all our customers, build relationships with our employees that are based on trust and respect and build relationships with our suppliers based on commitment and transparency. At the same time, we are passionate about being an ethical business with the responsibility to create positive value back to the environment.
Our Vision
To be one of the leading integrated
environmental solution provider
Our Mission
To provide and assist organizations with total integrated environmental services and highest standard of services